Full Height-customizable desks take the place of your existing desk, and Partial Height-customizable desks are placed on top of your existing desk.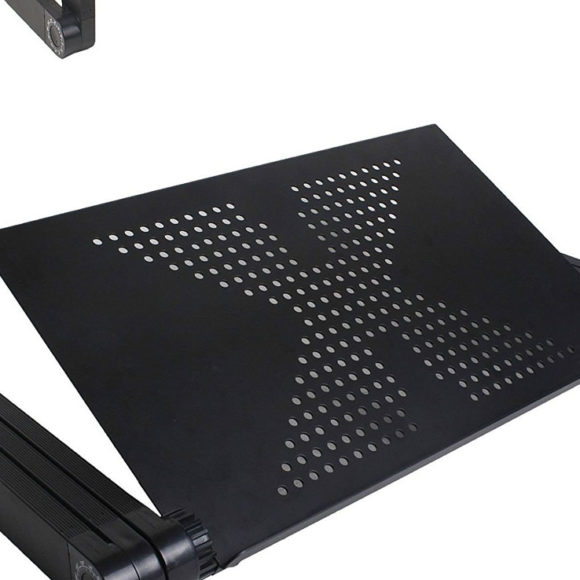 STABLE on any surface thanks to its surprisingly STURDY, yet lightweight legs, you can comfortably use the laptop stand while sitting ON THE COUCH, IN BED, AT YOUR DESK or even on the floor. This is a perfect, laptop desk for anyone who needs to spend a lot of time in bed, working from home, or in front of the laptop.

If you've been looking for an inexpensive solution to STAND UP WHILE WORKING, you can use the RhinoFlex laptop table on top of your office desk to convert it into a STANDING DESK. You can ADJUST the height of the table so you don't have to look down, for an eye-level ERGONOMIC POSITION, reducing neck and back pain.

EASY TO SET UP & USE - the detailed INSTRUCTIONS WITH IMAGES guide you step-by-step through adjusting the height and angle of the legs. The included sticker makes it super simple to re-adjust the table on the go every time you need to change positions.

The LARGE, perfectly sized, fully adjustable MOUSE PAD allows you to work at ANY ANGLE. EASY TO DETACH - you can switch between left-handed and right-handed work, you can completely remove it or even use it to hold a book, your phone or your tablet. (the INCLUDED STOPPERS will keep them from sliding off)

If you're looking for a UNIQUE & FUNCTIONAL GIFT for your friends and family members, the RhinoFlex laptop stands are a gift they will LOVE & ENJOY USING, thanks to their versatile, portable & adjustable design, convenient for using anywhere.